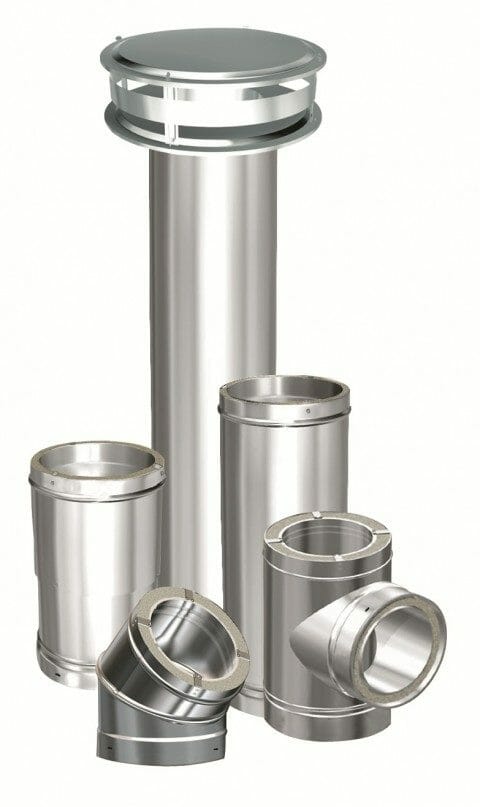 Why do we install and sell ICC EXCEL chimney? Generally one simple reason comes to mind – PEACE of MIND. Your PEACE of MIND. You see the comfort and safety of customers has always been the #1 concern since the beginning and everything else is secondary. Let's review and compare – you will see the differences. EXCEL is tested and listed to the ULC S-629 chimney standard. The ULC standard is generally considered the toughest residential chimney standard in the world. Yes in the WORLD! The USA standard requires the chimney to withstand three 10-minute 2100°F chimney fires. The Canadian standard requires the chimney to withstand three 30-minute chimney fires, three times longer than the USA. This often means that chimney pieces you can buy in the USA may not be certified to Canadian standards, may not be able to meet those standards and may not be legal to use in Canada. EXCEL is one of only two chimney's available with a 1 inch wall insulated chimney to pass the ULC standard. The other is the Selkirk ULTIMATE ONE. However, EXCEL has a unique thermoplus insulation which has an extremely high insulating value that helps to keep flue gasses hot. This means the chimney warms faster and this in turn minimizes the creosote condensation in a hot flue. This means that it is SAFER than many lower cost chimneys over time. But it goes further, EXCEL is the lightest weight insulated chimney of its kind on the market, lighter than any others. And this low thermal mass also helps it to heat quickly and again enables it to minimize creosote formation. The EXCEL incorporates a continuous blanket insulation into a design which eliminates couplings between lengths. There are no gaps in the insulation and no hot spots on the outside, or cool spots on the inside.
Lower cost chimney can have thermal bridging on the ends. This occurs on any brand of chimney which is a twist lock connection – the metal ends will conduct heat and cause hot spots on the outer wall.  Some examples are on right.
Lower cost chimney may also have leaks on the elbows – meaning if you use outside moisture will eventually leak into the elbows. EXCEL is actually the only chimney certified to allow an outdoor offset in the chimeny.
Lower cost chimney generally only comes in three foot as maximum lengths, this is often due to their weight. The three foot sections weight more than a four foot EXCEL length!
EXCEL is the only chimney which permits one inch clearance to combustibles when inside proper/certified/shielded support boxes.
EXCEL has welded seams, interior and exterior – as does ULTIMATE ONE – lower cost chimney has folded seams. This is often a failure point of lower cost chimneys when a chimney fire occurs.
EXCEL has lifetime warranty, even in event of chimney fire – lower cost chimneys have only a warranty against manufacturer defects.
EXCEL has a unique, patented, stainless-steel on the inner wall (.016" 304 or FW2 stainless steel). The outer wall is the same stainless (.016" 430 stainless steel) as on many other chimney models.
Because EXCEL has a smaller outer diameter for the same flue size, often the cutting of joists, rafters, etc.. is not necessary.
We use because it is SIMPLY THE BEST and YOU DESERVE IT. GIVING PEACE OF MIND – ONE CHIMNEY AT A TIME.